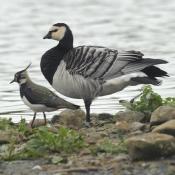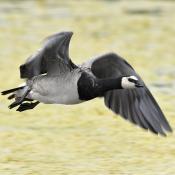 These geese over-winter in the UK, the two main sights being Islay and the Solway Firth. Indeed, the entire Svalbard population migrates to the Solway every winter, feeding mostly on the Scottish side, but sleeping on the Cumbrian side. They are here from October to March, occasionally joined by rarer birds such as Ross' Goose, Todd's Canada Goose or Red-Breasted Goose.
Barnacle Geese have very monochrome markings; they have a black head, neck and breast, a creamy-white face, contrasting with a white belly, black tail and blue-grey barred back and wings. These geese are very sociable, feeding in large groups and flying in packs or long lines (known as 'skeins'), barking or yapping noisily.
The name 'Barnacle Goose' is derived from the original idea and legend that they hatched out of Goose Barnacles growing on driftwood. This may have been because no-one saw them nest, as they breed within the Arctic Circle.