Clay dabbin building drop-in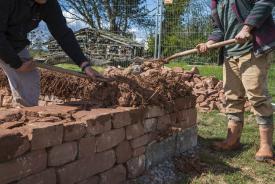 The Solway Wetlands Landscape Partnership Scheme is constructing a brand new Clay Dabbin building at RSPB Campfield Marsh. Clay Dabbin is the traditional type of building construction on the Solway, an ancient design replacing a lack of natural building stone. The method uses clay, grit and straw built up in layers with an oak frame and a heather thatch roof. Drop in anytime between 8.30 - 17.30 over the five days 30 May to 3 June to see what we are up to and even lend a hand in the construction yourself!
Monday, May 30, 2016 - 08:30
to
Friday, June 3, 2016 - 17:30
Meet:
RSPB Campfield Marsh, near Bowness-on-Solway, CA7 5AG
No booking required - just come along!
---